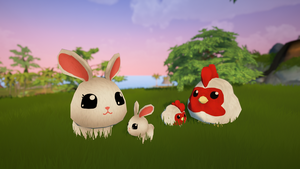 There are many types of animals in the game.
Some are only found in the wild and must be tamed, some must be purchased and raised to maturity on your farm, and some can only be obtained as prizes or quest rewards.
For specific locations of wild animals, see Detailed Map.
An animal placed in a habitat will drop 1 item every morning. Items vary by animal type, such as feathers, eggs, wool, fur, or even geodes. These can be sold, used to complete quests, or as a material in crafting recipes. Some items, such as Alpaca Fiber, can only be obtained this way.
Cows and Goats can be interacted with using a Wooden Bucket to obtain Cow Milk or Goat Milk.
All animals drop poop, which can be used to craft Basic Fertilizer or requested by NPCs in some quests. There is a rare chance for animals to drop Golden Poop. Some animals do not drop anything other than poop.
Animals themselves can also be sold in the player's shop to earn extra coins.
See Taming and Raising Animals for more information.
The player can have an animal follow them by placing them in the pet slot of the Inventory (the pawprint icon at the very left).
Most can be dyed different colors at a Dyeing Station, but they will only show in the world as their new color when in the pet slot.
Pets do not provide any perks to the player, will not drop resources, and cannot be interacted with unless the animal is mountable.
Many animals are also mountable while equipped in the pet slot. A "Ride" option will appear when the player is near the animal. Pressing E will mount the animal. Pressing F will dismount.

Depending on the animal, movement speed and jump height may be increased or decreased. Riding is only available with adult animals.
For more information, see Mounts.
Animals can be placed inside an Animal Display. They will appear in the world and move around and behave as they normally would, but they will not drop resources.
---
Certain requirements must be met to tame or raise most animals. The following table outlines locations or shops where they can be purchased, preferred food, Habitats, and potential daily drops for each animal when it is in a habitat (not necessarily the player's):
Animal
Location in Wild
Purchase From
Habitat
Eats
Drops
Chick

Mr. Jones' and Mr. Mooney's Farms,
Top of Waterfall (Can't be tamed)
Mr. Jones 200,
Jacob 220
Chicken

Mr. Jones' and Mr. Mooney's Farms,
Top of Waterfall (Can't be tamed)

--

Duckling,
Mallard Duckling

Mr. Jones' Farm, Pond in Duck Pond Region
(Can't be tamed)
Mr. Jones
300
350
Duck,
Mallard Duck

Mr. Jones' Farm, Pond in Duck Pond Region
(Can't be tamed)

--

--

Cat

North end of Player Home Region
(White Cat across from D7,
Black Cat on hill above Dungeon)

--

Bunny

Duck Pond Region (5 white, 3 brown),
Waterfall Region (2 white)
Museum reward (white)
Calf


--

Jacob
Cow

Mr. Jones' and Mr. Mooney's Farms (Can't be tamed or milked)

--

--

*
*Requires Bucket
Foal


--

Poppy
Horse


1 brown east of Wheat Island,
1 white and 1 black on Hippo Island

--

Baby Goat


--

Poppy
Goat


2 brown and 1 black east of the Waterfall,
2 mountain goats on cliff above waterfall

--

*
*Requires Bucket
Lamb


--

Poppy
Sheep


1 black on Wheat Island, 1 pink and 3 white east and south of the island

--

Baby
Alpaca


--

Poppy
Museum reward
Alpaca


--

--

--

Piglet


--

Poppy
Pig


--

--

--

Hippo

2 large and 1 small on the south side
of Hippo Island

--

Dung Beetle



6 inside Bear Cave

--

Deer

Scattered around Forest Region,
Winter Island, and Kozita

--

Bear

Bear Cave on western side of Forest Region,
scattered around Winter Island

--

Fox

2 on hill above Bear Cave
(Arctic Fox west of Crash Cave in Winter,
also found on Winter Island)

--

Skunk

2 at base of giant tree in Forest Region,
1 on island north of Thorne

--

Dog

At border between Player Home Region
and Ruins Area

--

Pet it!
Ferret

1 on east end of Ruins Area,
2 on Ferret Island

--

Penguin


On island north of Bruce during Winter

--
All animals above can also be won by playing the Matching or Balloon Popping games at Festivals, or received from an Animal Mystery Box.


Warning! The following section(s) may contain spoilers for players who haven't progressed very far into the game yet. Proceed with caution.
Most of the animals below can only be obtained as prizes or rewards for completing quests, Museum collections, or Sanctuaries:
There are special mountable animals that will only spawn in the wild when very specific circumstances are met. Chances of spawning each day are low, and vary per animal.
For more information on these mounts and their spawn chances, see Legendary Mounts.
Community content is available under
CC-BY-SA
unless otherwise noted.