| | |
| --- | --- |
| | Dragon Statue shares an in-game name with Dragon Statue (Item). This page concerns the statues that can be found hidden around Kozita and function as currency. |
Dragon Statues are special treasure hunt items that can be found hidden in various locations around Kozita, primarily around Rock Island and the Mountain Region.
They are not placeable items, but a form of currency that can be traded for dragon-themed decorations.
Warning! The following section(s) may contain spoilers for players who haven't progressed very far into the game yet. Proceed with caution.
In order to start hunting for Dragon Statues, the player must:
Dragon Statues will not initially spawn anywhere Kozita until starting Mina's quest about them.
Only 20 Dragon Statues spawn on Kozita per in-game year, but there are many possible spawn points. Those that do spawn are available to find all year long, in any weather.
Dragon Statues emit a bell/jingling sound when the camera is nearby, similar to Loot Chests. This is important if you are hunting statues, because some can spawn inside rocks.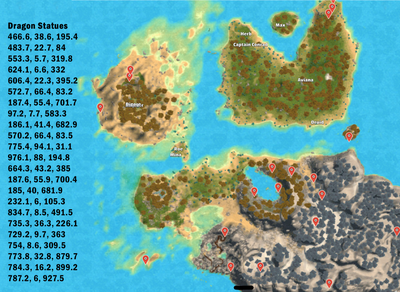 First draft of statue locations by tocketsupuurin
Choosing the dialogue option "Ask about statues" will have Mina tell the player how many of the 20 statues are left to find for that year.
Dragon Statues can be traded to Mina for various dragon-related items:
Item
Name
Buy Price
Dragon Statue


(Random colour)

5x
Dragon Rock Statue
3x
Dragon Stone Fountain
10x
Dragon Statue Chest
15x
Dragon Egg (Fake)
1x


Dragon Egg


(Random colour)

10x
Dragon Statues can also be turned in at the trade station near Jasper on Rock Island for mining-related items, such as a Geode Resource Bag.
Community content is available under
CC-BY-SA
unless otherwise noted.