The Earthquake is a scripted event that happens around Spring Day 6, Year 2.
When the player wakes up in the morning, the screen will remain black for a short time while a rumbling sound can be heard like boulders falling.
Effects on the Main Island
[
]
Visually, not too much changes on the island. The main focus is Mayor Wilson's plan to clear the tunnel under the waterfall, which collapsed due to the quake.
"Collapsed Track" begins a significant questline to open up the Waterfall Passage, which ultimately ends with unlocking the ability to Fast Travel between the Waterfall Cave and the Town Mine.
Townsfolk Reactions
[
]
As might be expected, everyone in town will now have Earthquake-related quests.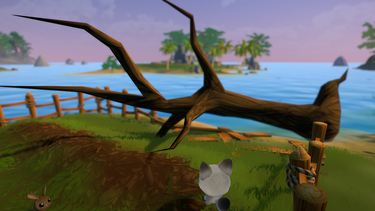 A tree landed on Thorne's fence
Earthquake quests will only be available for NPCs who were in the Town of Florens before the Earthquake.
If a character has not come to the town yet (e.g. their Upgrade Table shop has not been purchased, or their prerequisite questline not completed), their Earthquake quest will not be offered once they do move to town.
Exceptions include all seasonal NPCs, the Assistant, Cosmo, Flo, Guppy, Hash, John Stone, Petey the Pirate, Pamela, Roman, and Sammy, who do not have Earthquake questlines.
Dev's Island Inhabitants:
Notes
[
]