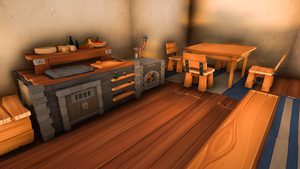 This page lists the various furniture items in Garden Paws. Please feel free to update it to add new or missing furniture, with links to their respective pages.
Furniture Items are objects that can be placed in the world. Some can be interacted with, while others only serve as indoor or outdoor decorations.
This page primarily covers decorative furniture. For a list of storage-enabled furniture and items, see Storage.
How to obtain furniture
Edit
There are several ways for the player to obtain furniture:
Crafting: The player can purchase the Furniture Blueprint Seller upgrade, which allows the player to buy and craft themed furniture sets.
Gifts: Occasionally the player might find a furniture item when opening Blue Mystery Boxes.
Quest Rewards: Some quests offer furniture pieces or blueprints as completion rewards.
Museum Collection Rewards: The player can earn furniture workbenches or blueprints through completing certain Museum collections.
Festivals: Seasonal furniture pieces can be won in minigames during the Summer Festival or Winter Festival, or purchased from stalls with festival tickets.
Some furniture pieces can fall into several of the above categories. For the purposes of this article, the furniture in the game will be divided into Craftable Furniture, Blueprint-specific Sets, Garden Decorations, Seasonal Sets, and Dungeon Sets. Other categories might be added as the catalogue grows.
Craftable Furniture Pieces
Edit
These furniture pieces can be crafted without buying any Blueprints, but the player may need to complete quests to unlock some of them. Some can only be crafted, others are sometimes sold by shopkeepers:
Blueprint Furniture Sets
Edit
The player must purchase blueprints from the Furniture Blueprint Seller to craft the following furniture items and sets, but it is possible to win them in festival minigames.
Blueprint Decorations
Edit
Blueprint Furniture
Edit
Garden Decorations
Edit
These decorative items can be purchased from shopkeepers or won in minigames:
Seasonal Sets and Decorations
Edit
These furniture pieces can be won in Seasonal mini-games or traded for Festival Tickets:
These furniture items are only obtainable via the Dungeon Shop (either directly or through unlocking recipes by beating Dungeon levels) or by looting Dungeon Chests. Occasionally they can show up as random prizes in festival minigames.
Community content is available under
CC-BY-SA
unless otherwise noted.