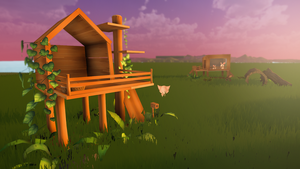 Habitats are structures used to raise, tame, or display specific animals.
Obtaining
[
]
Some habitats can be purchased from Frank's Upgrade Table, some need to be crafted from Blueprints purchased from the Furniture Blueprint Seller, and others are received as rewards for quests or completing Museum collections.
Upgrades
[
]
The Chicken Coop and Barn built by Frank can be upgraded twice to hold up to 9 animals each.
Craftable habitats cannot be upgraded.
Habitat List
[
]
The following table outlines existing habitats and animals along with the requirements for obtaining each habitat:
Warning! The following section(s) may contain spoilers. If you have not progressed very far into the game yet, proceed with caution.
Habitats cannot be dyed with Furniture Brushes or Paintbrushes.
Habitats cannot be dyed at a Dyeing Station.
Related Items
[
]
These items are designed to display animals, but are not considered habitats and cannot be used to tame wild creatures: