Kieran's Campsite is the forested area at the east end of the Waterfall Region.
Background
[
]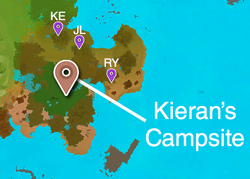 At the start of a new game, there is no actual campsite at the location. As the player helps build the campsite, objects such as tents, campfires, and a well start to appear.
The area is dense with Ferns and Pine Trees. There are no wild animals.
Inhabitants
[
]
Initially the region is empty, but eventually the following NPCs can be found:
Currently Joline and Rudy do not offer any quests beyond Earthquake reactions and Bulletin Board orders.
Chest Locations
[
]
1 Loot Chest can be found near Rudy, behind a large rock.