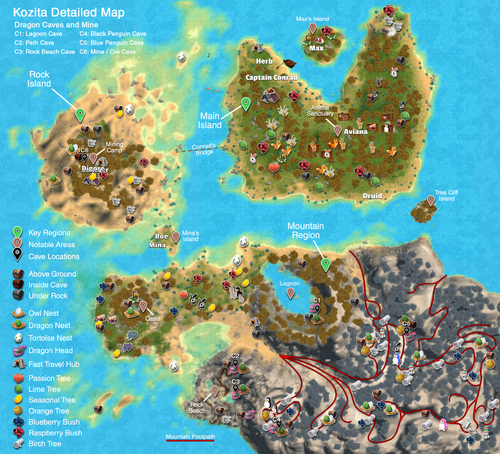 This map is modified to show locations of objects, resources, and animals on Kozita.
Most of the areas on the map do not have in-game names. For convenience they are referred to across this wiki with placeholder names related to nearby identifying objects or geography. If an area eventually gets an official name, the map will be updated.
The map must be enlarged in order to use properly. Clicking on it will show a zoomed in version, but the original large size can be viewed by clicking the "see full size image" link at the top left of the image pop-up.
Key Regions, Notable Areas, and Caves are marked by colored pins. Locations of loot chests, wild animals, beehives, fruit trees, raspberry bushes, nests, and other objects are marked by their icons directly on the map.
(Dragon Statues are featured on their own map, since their spawn locations often overlap other objects.)
The map breaks down the original in-game map of Kozita into 3 regions: the Main Island, Rock Island, and a Mountain Region.
The lines in the Mountain Region represent pathways that can be accessed on foot.
The Main Island is where players start out on when they first make it to Kozita in Year 4. It consists of a large V-shaped landmass with a small island to the north.
The Dock
Herb's Shop
Player campsite (2 tents)
The Animal Sanctuary
Max's Island
Conrad's Bridge is only available after the thorns have been cleared. It is built over the course of the week following the quest "Just like a Boat!"
Rock Island is the landmass located west of the Main Island of Kozita. The region includes a small island to the southeast with 2 NPCs.
Miners Camp
Player campsite (2 tents)
Mining quarry
Mina's Island
C6 - Mine / Ore Cave
The Mountain Region is the large landmass taking up the lower half of the map of Kozita. It is broken up into several zones for wiki purposes, making it easier to refer to. The red lines indicate pathways that can be reached on foot (as opposed to flying).
Oasis
Lagoon
Rock Beach
Mountain Peaks
Tree Cliff Island
5 of the caves on Kozita are found in the Mountain Region:
C1 - Lagoon Cave
C2 - Path Cave
C3 - Rock Beach Cave
C4 - Black Penguin Cave
C5 - Blue Penguin Cave
Community content is available under
CC-BY-SA
unless otherwise noted.