Lemon Trees
can be found in the wild during
Spring
, or grown using Lemon Tree Seeds.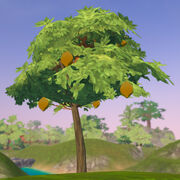 Wild Trees
Edit
Wild Lemon Trees can only be found in Spring. Harvesting yields 2 Lemons.
Planted Trees
Edit
Finding SeedsEdit
In order to grow a Lemon Tree, you need Lemon Tree Seeds, which can be obtained by:
Once planted, a Lemon Tree Seed takes 8 day to become a fully grown tree. The tree needs to be watered until maturity.
HarvestingEdit
Mature Lemon Trees can be harvested every 6 days, and do not require water in order to produce fruits. Home grown trees yield 3 Lemons per harvest, and produce fruits all year long.
Once you have the Fruit Tree Seedmaker, you can use it to make much cheaper Lemon tree seeds for the cost of 10 Lemons from Jenna. 1-2 seeds in the Seedmaker costs

250 coins, vs

2,500 for a single seed from Bruce.
Community content is available under
CC-BY-SA
unless otherwise noted.