Rock Island is the landmass located west of the Main Island of Kozita.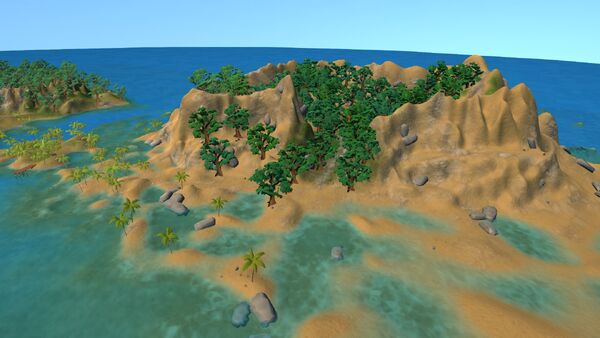 Background
[
]
Rock Island was originally a busy mining camp before the corruption took over and surrounded the main island with a ring of thorns. With access blocked, the miners could not get supplies in or out, and the mines fell into disrepair.
When first visiting Kozita, access to Rock Island is blocked off until the thorns can be removed. After completing the quest "Thorn Free" for the Druid, it can be reached via glider or raft.
Features
[
]
This article covers the basic information for Rock Island. For more specifics, see Caves (Kozita) or Kozita Detailed Map.

Rock Island map
Mine Cave
[
]
Kozita's main mine is at the center of Rock Island. Initially it is blocked by stone and inaccessible because of the broken scaffolding, but through completing quests the player can help fix the walkways and reopen the cave.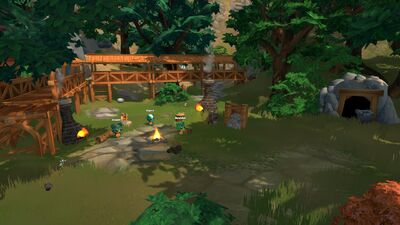 Mining camp (mine at the top left) and fast travel minecart
Fast Travel Hub
[
]

A fast travel option, like the minecarts in Florens, can be unlocked to quickly move between Rock Island and the center of the Mountain Region.
They will be inaccessible until completing both "Broken Mine" quest crates.
Loot Chests
[
]
Seven Loot Chests can be found around the island:
On a small plateau to the right of the main path to enter the mining camp area, surrounded by crystal geodes across from a fruit tree
Under a rock along the north inner wall of the mining area
At the end of the path going up the cliffs, east of #3
On the northern shore beneath a fruit tree
On a small plateau along the ridge to the east of the tents
Inside the main mine, only accessible once the entrance is cleared
Nests
[
]
There are 2 Nests on Rock Island.
On a sandy ridge on the far western area, which can only spawn Dragon Eggs
Under a tree above the mine itself (the main mine, not the fast travel entrance), which can spawn either a Dragon Egg or a Snowy Owl Egg.
Inhabitants
[
]
3 miners live in the middle of Rock Island, while Roe and Mina can be found on the tiny island just southeast of the main landmass.
Resources
[
]
Being a mining location, Rock Island is rich in resources. In addition to stone, marble, geodes, and crystal geodes, there are new crystal-shaped copper, silver, and gold ore formations out in the open that can be mined to directly receive the ores, instead of needing to put geodes through a processor or anvil.
There are 3 fruit trees and plenty of regular trees and bushes available to harvest wood, and an abundance of Dragon Fruit plants. A selection of the more basic plants and flowers can also be found in random spots.
After completing "Statues for Jasper", there will be a Stone Display Stand next to Jasper where Dragon Statues can be traded for resources such as Geode Resource Bags.
Materials
[
]
Plants
[
]
Objects
[
]
Quests
[
]
Quests available or beginning on Rock Island:
Ore Mine

[

]

Roe and Mina

[

]