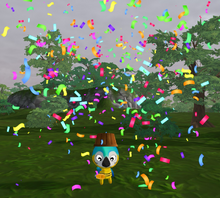 Ohai. Obsessive editor here. Nice to meet you.
I'm Absurd Logic on Steam and Twitch, if you're looking for a new friend to bother.
I tend to do whirlwind blitz edits, so I apologize if a bunch of pages suddenly change at the same time. I promise there's a method to the madness.
A note about deleting stuff
[
]
If you're here because you got a notification or something that I deleted one or more files you uploaded: It's totally not personal. There are a TON of duplicate image files people have uploaded over time, mostly of skin thumbnails (seriously, there were pages and pages of them clogging up the wiki's tubes). The issue is that the dupes crowd out images we actually need, making it difficult to sort stuff and search for specific things. So the deletion is a practical matter to make it easier to navigate the image archive.
I try to limit deletions to duplicate skins, however. I do not delete screenshots, so if you have a bunch of those up they'll be safe (from me at least). The most I would do is rename them with keywords to make them easier to search for when editing pages.
Thanks for understanding. ♥
Favorite Pages
[
]
I've had a hand in pretty much everything, so it's tough to pick. But I'll say...