See Also: Detailed Map of Main Island
The Waterfall Region is located on the north-eastern part of the Main Island. It is hilly, but relatively open with few trees growing in the area. Various animals can be found there, and plants of many kinds[1] can be found during all seasons. The region contains a small island that always has wheat growing.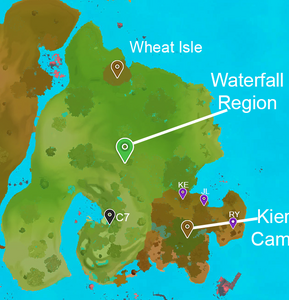 The region has two notable locations:
The following Chests can be found in the region. (See the Detailed Map for visual locations):
Northwest of Wheat Isle on top of a rock
East of Wheat Isle under a rock
Further east of #2 beside a small pool
Inside the small cave at the top of the waterfall
On top of the waterfall, at the southern tip
On the east side of the waterfall, down a small incline
Community content is available under
CC-BY-SA
unless otherwise noted.